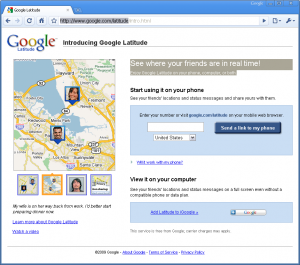 Alongside some upgrades to Daniel Shakhmundes' website (i.e. now running the latest stable versions of WordPress, Akismet, and Google Analytics for WordPress), we're most excited to write about what we consider to be an upgrade to life.
Google now has a new product named Latitude.  Straight from their introductory page, it states:
See where your friends are in real time!
Enjoy Google Latitude on your phone, computer, or both.
Check out the official Google Latitude page for more information, including a video.
There can be a lot of benefits and convenience in having the ability to know where your friends/contacts/associates/whoever are, especially considering that many of us already use Google Maps on our computers & smart-phones.  Apparently integration for Facebook and Twitter is already available.  We'll be looking into those before too long.  For now, D.Shak is going to enable Google Latitude and see who's willing to experiment with him…  Now is a good time to figure out the privacy settings for Google Latitude, before many other people are using it.
Common misspellings for SEO: lattitude, latittude, lattittude, latutid, latatude